Wynonna Earp: Dominique Provost-Chalkley and Katherine Barrell Tantalize at Comic-Con!

Carissa Pavlica at .
Dominique Provost-Chalkley and Katherine Barrell have nothing but wonderful things to say about the fans of Wynonna Earp.
That doesn't mean, though, that they can afford to immerse themselves in the world of social media because even they can get lost in all the love out there.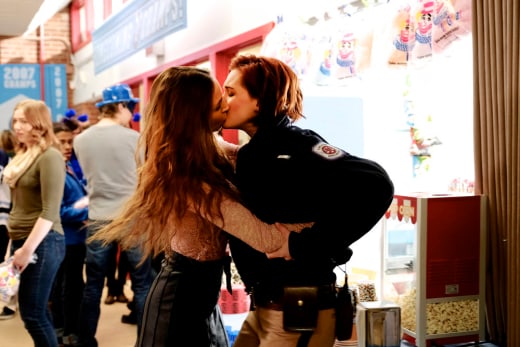 Provost-Chalkley enjoyed her evil arc a lot. In fact, she was kind of embarrassed to talk about it!
But once she got into it, she couldn't help share the excitement she felt for the darkness and how she gets into the physicality of both sides of Waverly.
Nicole might have watched Waverly in her cheerleader suit, but it's clearly a mutual admiration society between the two actresses.
Their friendship is as clear in this interview as their romance is on the series.
Check out the video below and be sure to tune into their Wayhaught romance on Wynonna Earp every Friday night on Syfy.
And if you want to see that special scene, you can watch Wynonna Earp online right here via TV Fanatic.