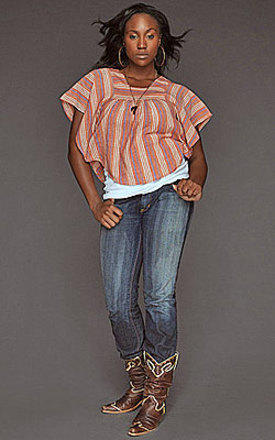 Size
does
matter.
That's the take of the Los Angeles Times, on America's Next Top Model, which has bid farewell to both plus-sized models on its current cycle.
Tyra Banks and her judgin' cronies decided several weeks ago that Diana, whose heart never seemed fully in the contest, should get whacked.
Last night, Whitney was dismissed after landing in the bottom two three weeks in a row.
It was a tough road for Whitney (pictured, right) - who is stunning in person and extremely charismatic - but her photos never seemed to reveal her full personality and almost always made her look like a Sears catalog reject.
It didn't help that the America's Next Top Model photo shoot fates were stacked against her - last night she was required to pose in a bath towel and high-heeled shoes - a look that's really not flattering for anyone (seriously, try it).
The judges were consistently harsh toward Whitney, with Twiggy in particular, being hugely dismissive, referring to her week after week as a mere "pretty girl," but not a model.
In the end, Whitney pondered if modeling was the right career path for her (um, she goes to Dartmouth - why isn't she wondering if being a Supreme Court Justice is the right career path?) and decided that maybe she would try her hand... at acting.
Because Hollywood, after all, is far, far more accepting of women who don't fit into the elfin mold. Come on. Even the stereotypical rail-thin blonde, The Hills' Heidi Montag, just got a boob job.
Matt Richenthal is the Editor in Chief of TV Fanatic. Follow him on Twitter and on Google+.