And the Reality TV Scoop staff thought we were the only ones who still pulled the dine-and-dash routine in New York City.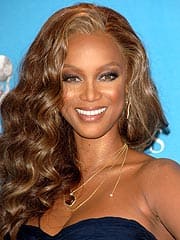 Wait, did we say that out loud? Disregard.
Anyway, Tyra Banks finally paid a brunch bill Thursday after "mistakenly" leaving a Manhattan eatery without settling the check last weekend.
On Saturday, the supermodel ate at the Brooklyn Diner with music mogul Russell Simmons and his children - but the party left without paying, according to Alexis Reyes, who runs the diner.
"Everybody waved goodbye and there was nothing in the billfold," Reyes saiid. "We kind of figured it was okay. It was so chaotic, she thought someone must have paid the bill."
As Banks explained on The View Thursday morning, she had offered to pick up the check, then Russell Simmons insisted he would, but ultimately neither did in a misunderstanding.
On Wednesday, the celebrity gossip fiends at the New York's Daily News reported that Banks "dined and dashed," which made her realize the mistake.
"I read the [newspaper] and they're saying I'm cheap and I didn't pay the bill," the America's Next Top Model host said on The View Thursday. "So I'm on my way after this with my $120 and I'm going to give it to them."
Indeed, Banks showed up to make good on the check, Reyes confirmed.
"She was really apologetic and also she was really embarrassed," he says. "She was great. She was very much a lady."
As for the gratuity, Reyes says of Banks:
"She left a wonderful tip. She was quite generous."
She usually is. Too bad there was no tip that could save Jael Strauss.
We're not surprised that Banks, one of our favorite reality TV stars, would make good on her promise and make up for her mistake.
She's no Jason Wahler.
Matt Richenthal is the Editor in Chief of TV Fanatic. Follow him on Twitter and on Google+.