There's no doubt who the focal point was throughout last night's all-new America's Next Top Model episode: Natasha.
The other three remaining Top Model aspirants - Renee, Dionne, and Jaslene - left nothing in the bag, fueling the raging Natasha fire with remarks like: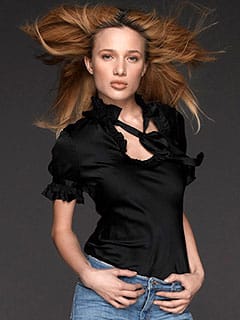 "She is this funny Russian girl, but now she's just annoying to me."
"You guys better bring it at the photo shoot tomorrow....We need to send someone home. You know who I'm talking about."
"I want to see Natasha go home. Right now, I'm over her."
"I'm really curious as to how does she lives her life."
"Natasha doesn't have a wedding ring, I've never seen a picture of her husband [or] her daughter."
"We don't know anything about her husband, at all. I don't even know his name."
"'Her story has changed so many times. It's like, if you're going to lie, at least be good at it."
Is she manipulative and fake â€" or even leading a double life? And did Tyra Banks and company keep her around for another week? Follow the link to continue reading our recap of America's Next Top Model...
Matt Richenthal is the Editor in Chief of TV Fanatic. Follow him on Twitter and on Google+.