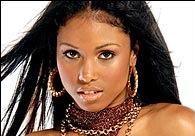 With the Pussycat Dolls putting on a show in Atlanta last night, you'd think we'd have a report on the stylings of
Asia Nitollano
. But there's just one problem:
The winner of CW's The Search for the Next Doll was nowhere to be seen on stage with the group.
As TMZ first reported last week, sources say Asia isn't "the best match" for the group and that another edition of the show is already in the works. That can't be a good sign.
How many Pussycat Dolls can there be?
However, Warner Bros. says that Nitollano "is absolutely a member ... and will tour with the group and record for the Dolls' second album."
But is that really the case? Robin Antin, the creator of the group, was spotted dancing with the runners-up on in the series, Chelsea and Melissa, last night at the Stoli Hotel in Hollywood. Sounds sketchy to us.
How can the winner of the show not be in the group? Isn't that like America's Next Top Model being told she can't, well, model?
Matt Richenthal is the Editor in Chief of TV Fanatic. Follow him on Twitter and on Google+.