There have been a great many deals (or no deals) made over the last few months.
In fact, Deal or No Deal celebrates its landmark 100th episode in its second season tonight. Hosted by Howie Mandel, the wildly popular game show has given away more than $16 million dollars to date and averages over 15 million viewers per week.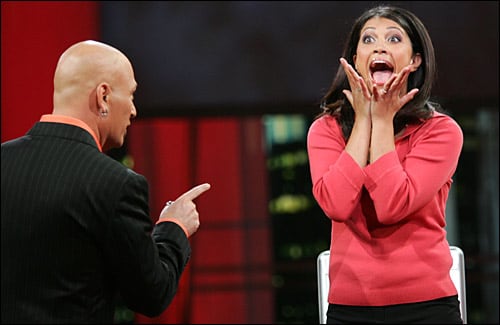 For the 100th episode, favorite Deal or No Deal contestants from the past will fill the audience - and everyone is surprised when Mandel invites Brooks Leach of Mt. Vernon, Arkansas to join him on stage for a second chance to try his luck at becoming a millionaire.
The fun-loving entrepreneur - spoiler alert! - plays his heart out as he tries to top his $10-winnings from the November 27, 2006 game; he also receives a surprise of a lifetime when his favorite rocker Ozzy Osbourne makes an appearance to wish him well as he plays the game.
In addition, special congratulatory video messages were sent to Howie by Jay Leno, Regis Philbin, Jackie Chan, Celine Dion, and Heroes cast members Hayden Panettiere and Zachary Quinto.
Matt Richenthal is the Editor in Chief of TV Fanatic. Follow him on Twitter and on Google+.