Julianne Hough is a master at the quickstep on Dancing with the Stars â€" but she's taking her romance slow.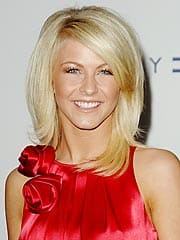 Hough is Apolo Ohno's partner on the reality show - and has now postponed her planned Aug. 8 wedding to former dancer Zach Wilson.
But does that mean she's free to date?
"No!" Hough tells People magazine. "[Zach and I] are still together. We just want [more time] before we get married. It's all good!"
Well, okay then.
The couple had planned to tie the knot in Mormon ceremony in Utah this summer. But Hough says she's so busy with the show that they decided to take some time.
For now, Hough is concentrating on Dancing as the competition heats up. After Billy Ray Cyrus was booted from the show on Tuesday, Hough wiped away tears and said: "It gets harder as all these people leave."
Matt Richenthal is the Editor in Chief of TV Fanatic. Follow him on Twitter and on Google+.