Laguna Beach is so last year.
Welcome to Nashville, FOX is telling viewers.
The network has announced that Nashville, a new Laguna Beach-like docu-reality series that will follow a group of young people trying to make their mark in Nashville's music industry, will debut as part of the network's Fall 2007 primetime programming schedule.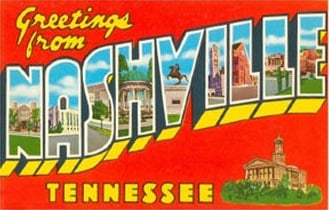 FOX Entertainment president Peter Liguori, who announced the new show during a Thursday conference call in which the network unveiled its 2007-2008 primetime programming schedule, told reporters that
Nashville
- created by Go Go Lucky Productions, the same production company behind MTV's
Laguna Beach
,
The Hills
, and
8th & Ocean
reality shows - came about as the result of the network's "[interest] in looking at an unscripted drama."
"I fell in love with the casting," said Liguori about Nashville. "When you see it, these kids are beautiful and they're talented and they have great back stories. I mean we have the proverbial coal-miner's daughter as someone who is talented. Their stories... each and everyone one of them has a great one.
And honestly, they're going into something that is meaningful. They're going into Music City to land a record deal and I feel like their stories are very aspirational and really, really Americana."
You know, just like how Heidi Montag is very Americana.
Because Nashville revolves around a young cast trying to break into the music industry in "the biggest small town in America," Liguori said musical performances by the cast can be expected by viewers, but will not be the driving force behind the series.
"Look the emphasis is going to be on the soap, not on music," he said. "These kids are talented... they're really good songwriters. But the songs and their performances are going to play to fuel drama. It's not going to be vice versa. The drama's not setting up the songs. So by far and away, I want to put the emphasis on an unscripted soap that happens to have a music foundation, not vice versa."
Nashville will air in the Fridays at 9PM ET/PT time slot, immediately following broadcasts of The Search for the Next Great American Band, Fox's new recently announced American Idol-like reality competition series.
Matt Richenthal is the Editor in Chief of TV Fanatic. Follow him on Twitter and on Google+.