ABC has announced that it will air Ex-Wives Club, a new reality TV show that will "help recent divorcees rid themselves of everything reminiscent of their former significant other in an effort to move forward with their lives."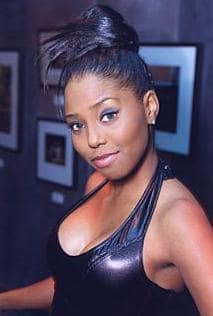 It's set to debut Monday, May 28 at 9 p.m.
It gets better. Shar Jackson (pictured) will serve as co-host.
Yes, that Shar Jackson, who was (ironically) never actually married to the great Kevin Federline, despite cranking out two of his kids before he dumped her for Britney Spears.
Each one-hour episode of Ex-Wives Club will feature one man and one woman, with the only commonality being that each recently went through a difficult divorce, although not from one another.
Different segments in each episode will show the recent divorcee trashing items that remind them of their former partner; indulging in revenge by partaking in an activity that will allow them to let loose some pent up frustration geared towards their exes; as well as makeovers that will help them move forward with their personal and professional lives, both of which are suffering from the divorce.
The five-episode series is hosted by three women who "know all about breaking up" - Jackson, Angie Everhart and Marla Maples.
Angie Everhart, a model and actress, is no stranger reality TV.
In addition to participating in on Season 2 of The Real Gilligan's Island, Everhart, the former wife of Ashley Hamilton, also served as the secret saboteur of ABC's Celebrity Mole Yucatan.
Jackson, a quote-unquote actress, is also working on her debut solo album, while Marla Maples is the former wife of The Apprentice star Donald Trump.
In addition to Everhart, Jackson and Maples, the "Ex-Wives Club team" will also consist of life coach and author Debbie Ford, who will meet with the show's participants to offer guidance.
Matt Richenthal is the Editor in Chief of TV Fanatic. Follow him on Twitter and on Google+.