During the on-set press conference in which creator Tim Kring announced a Heroes global tour, sponsored by Nissan, other details about season two emerged.
Here is a summary:
According to Greg Grunberg, he begins filming today. After realizing that he'd sort of let the cat out of the bag, he said: "Well, I could be on a hospital bed ... or in a coffin."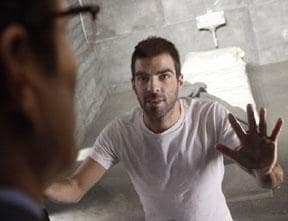 Hayden Panettiere
tried to help by joking that the entire cast would be standing around, lowering him into the ground. Therefore, it's a pretty safe bet Matt will survive those four bullets to the chest.
Sylar (pictured) will be back.
The end of season one, with Hiro in Japan wasn't really the ending ... it was a teaser of the first scene from the first episode of season two. Hiro will be in feudal Japan for "a handful of episodes," according to Kring.
Kring envisions season two as consisting of three big story arcs.
Heroes: Origins is an "anthology show." However, it's not a midseason show; it will air after the season two finale, and not during sweeps. They have not yet begun writing or filming it.
Adrian Pasdar was sporting a full beard, and Milo Ventimiglia had an extremely short haircut.
Matt Richenthal is the Editor in Chief of TV Fanatic. Follow him on Twitter and on Google+.