Jenn Grijalva was known as the hardcore partying rock star on The Real World: Denver.
Now that the show has aird, MTV Reality News sat down with Grijalva. Here are highlights from the interview: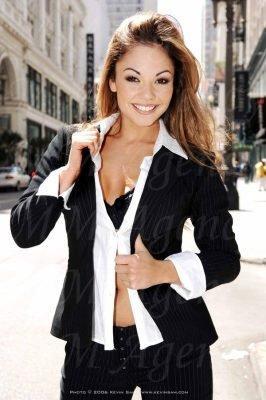 MTV Reality World
: How did you end up on
The Real World
? Had you always wanted to be on the show?
Jenn
: Well, when I was 18 and close to graduating from high school, I applied for
The Real World
. But I wasn't ready for the process. I was trying to typecast myself and wasn't honest with the whole process. I made it to the finals, but I was cut. When I was with the Raiders, I was there for four years. After that, I was at a transition. It's hard to find something as appealing and exciting for a regular job.
The Real World
presented itself again. There was an open casting call at a pub in Berkeley. I went down there and made it 5 minutes before they closed. I just went in there and from that point on, it was interview after interview. There was lots of self-examination. They were asking a bunch of questions that I never would have thought about. It wasn't my lifelong goal to be on TV or be an actress. I just didn't know what to do next.
MTV Reality World: Do you feel that you were accurately portrayed on The Real World?
Jenn: I think reality TV can portray you how they want you to be portrayed. And ideally, everyone wants to be portrayed a certain way. But I do think I was accurately portrayed. I was a single, 22 year-old wild child girl when I was there. I did make bad decisions. I did cry over the wrath I brought upon myself. As far as the show defining me as a person, no â€" that's definitely inaccurate.
It was a very short period of my life. All my roommates had their freshman and sophomore years in college away from their parents and got it out of their systems. For me, I went right into being an NFL cheerleader. I was representing the organization. I wasn't given the opportunity to go out and party and get away with it without a camera. This was kind of like my first time graduating from a scheduled lifestyle. It's out of my system now.
MTV Reality World: Was there anything that you wish MTV had shown that they didn't?
Jenn: Well, the idea of a documentary is to portray the accuracy of your real life. What frustrated me the most is I lost my grandfather during filming. He was only the second. person I lost in my life that I was close to. I left the show for four or five days and went home to comfort my family and to watch my grandfather die from cancer. When I returned, I was a different person. I learned a lot during that time â€" to live life to the fullest. But it was completely wiped out of the show as if it had no importance. They wanted to portray me as a party girl, not show a person losing someone and being really vulnerable. That wasn't fair. They also didn't show that I got my first tattoo when I got back to Denver. It's the nickname that my grandfather gave me.
It was a big step. I took the plunge and they even taped it. I shared my story and opened up and I'm frustrated that they threw it away with the extra tape. I wish they had shown it. It was important and very personal. I went through several interviews about my family and my grandfather and they wiped it out. It didn't fit in my character's role. I was the tough girl who spoke her mind and to show me in a vulnerable state didn't fit. They also cut out when I stopped drinking. At one point they offered me AA classes and I said I'd cool it myself. I stopped partying, lost a relative and they cut out my turnaround. I ended it as a party girl

MTV Reality World: Is there anything that you wish they had not shown?
Jenn: There's a ton of stuff. No one wants to have themselves on TV having sex. But I went into the experience doing it the way you're supposed to do it: be honest with yourself. Be honest with the cameras. It's a documentary on my life - of the things I did. I could probably in a few years say maybe I shouldn't have done this or that. But there's nothing I could pick through that I wish they hadn't shown.
There were bad decisions, tears arguments, foolish moments that I think people can relate to. I put myself out there completely. I think that sets me apart. A lot of my castmembers don't talk about having sex. They said that they had just been "making out." I pride myself that I didn't do that. Watching it myself has taught me a lot. It's kinda nice to get the reality thrown in your face and learn from it.
MTV Reality World: How close are you to your former roommates?
Jenn: I'm really close to Brooke and Davis. I talk to them the most. Tyrie and I are good friends too. Colie and I don't talk often. I don't talk to Alex or Stephen. My socializing friends that I text and talk to are Davis and Brooke. Tyrie and I are pretty close, too.
Matt Richenthal is the Editor in Chief of TV Fanatic. Follow him on Twitter and on Google+.