The new host of Last Comic Standing says the upcoming fifth season taught him that laughter is an international language.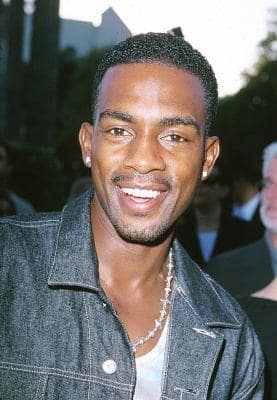 "For me, I've got to say, coming into
Last Comic Standing
, the thing that I liked about it was this whole international feel. We traveled to different places, and as a comedian, a lot of these place I had never been before," said
Bill Bellamy
(pictured).
"What's cool about it is to see humor transcending everything, no matter if you're from a different country. As long as there's no language barrier. An Australian joke. You get a guy or girl from London. You get somebody from Canada. It doesn't matter. It just like as long as you bring the funny, I think it's a beautiful thing."
Last Comic Standing 5 starts Wednesday, June 13 at 9 p.m. on NBC.
When it debuts, the show will be airing footage from a casting search that went international for the first time this year - with talent scouts for the series making stops in Sydney, Australia; London, England; Montreal, Canada; as well as across America.
"The international element's been interesting," said executive producer Peter Engel, who added he thinks the additional casting has helped beef-up the quality of Last Comic Standing's fifth season cast.
"We're looking for that fresh voice. A fresh take. That person who has a different bend on something that we haven't heard before. We're looking for the guy or girl that's going to make us laugh. That's really it. Comedy is very simple: If you laugh it's good, if you don't, it's not."
"I would say probably in the semifinals - again, some people didn't bring it, most did, there's a whole lot of pressure - I'd say this was probably our strongest field since Season 2. I think this is our strongest field and I think of our [10 finalists] it's our strongest field."
Bellamy will be Last Comic Standing's third host in its last three seasons. The actor and former MTV VJ served as host of Bill Bellamy's Who's Got Jokes? - a Last Comic Standing-style reality TV series that aired on TV One.
"I had my eyes on Bill for a couple of years," explained Engel.
"In fact I wanted Bill last year, but we couldn't clear schedules... I wanted Bill from way back when. I just thought he would be a perfect fit and he is. So when we were deciding who to go to, there were no other choices here. With [now-former NBC president] Kevin Reilly, I said, 'Bill Bellamy?' And Reilly said, 'Get him!' And that was it."
Bill Bellamy said he wasn't expecting the opportunity to host Last Comic Standing, but is glad he's been given the chance to.
"It felt like it just came out of nowhere, and it felt like a great fit," he said. "It's a lot of fun."
Having performed as a stand-up comedian for years before gaining notoriety through HBO's Russell Simmons' Def Comedy Jam in the early 1990s, Bellamy has an understanding of what Last Comic Standing contestants go through.
"When you go out there and the guy before you does a really amazing job, you feel that energy that he got coming through that curtain, you're like, 'Uh-oh... and I'm next,'" explained Bellamy.
"You want to take it to the next level. You're like, 'Okay. If he killed, now it's time for me to kill.' The worst thing is to be behind that curtain and feel [the comedian who performs prior to you] die. And you're like, 'Oh man! Now I got to go dig out of this hole!'"
Despite the new host, some familiar Last Comic Standing faces will be part of the show's fifth season. NBC has tabbed three former Last Comic Standing contestants - Last Comic Standing 3 winner Alonzo Bodden and Last Comic Standing 2 contestants Ant (the current Celebrity Fit Club host) and Kathleen Madigan - to serve as the show's new talent scouts.
"We have amazing, amazing fun with our talent scouts," said Bellamy. "I mean we've got Kathleen Madigan, Alonzo Bodden and we have Ant ... They're bringing so much laughter, and also critiquing, and just different elements of the show that we didn't necessarily have before."
"It's great. It was like a family coming back," added Engel.
"They were so into it, and so appreciative of what the show did for them originally and what has happened with their careers... and they appreciate that we had thought of them to bring them in as talent scouts this year."
Also new to the show's fifth season will be a bigger prize package -- in addition to landing an NBC talent contract deal and Bravo half-hour comedy special that's similar to the prizes that previous Last Comic Standing winners have received - the fifth season's winner will also receive a $250,000 grand prize.
"In the past there was a cash prize in addition to the [NBC talent contract deal and Bravo half-hour comedy special]. It was $50,000. It was [just] so little we never mentioned it!" said Engel.
"This year NBC just stepped up and said, 'Let's go for it. We're going international. We're bringing Bill in.'"
With a new host, new talent scouts, a new prize and international casting, Engel said NBC also decided to ditch the house where Last Comic Standing finalists had previously lived while competing on the show.
During the show's first few seasons, Engel said the perception among comedians was one of apprehension when thinking if appearing on Last Comic Standing would help or hinder their careers.
"We found the first year, we had that chemistry among three or four [in the house]. And it was just that dynamic. As we progressed, the comics have become much stronger, and the dynamic of the house has been diminished," explained Engel.
"I mean the comedy has been stronger, the challenges have been stronger, and we sort of looked at it, and it was actually [president and CEO of NBC Universal] Jeff Zucker who said to me last year at the press tour, 'You know next year, let's not have a house.' And I went, 'I'm with you.' We just felt it was not as strong... It sounds great, put 10 comics in a house and see what happens. But as the comics got better and better and better, the house became less interesting and we kind of had done it already. We're not an MTV show. We're a comedy show."
Engel said the first four weeks of episodes - including the June 13 debut - will highlight the global search for Last Comic Standing 5 finalists, which will then be followed by three weeks of shows featuring challenges and head-to-head competitions that will narrow the field of 10 to five.
"The difference this year, instead of the studio audience voting who leaves in the head-to-head, America will start voting in the head-to-head," said Engel. "So they'll essentially be done live."
The Top 5 finalists will then perform in the next four Last Comic Standing 5 broadcasts, with the winner being revealed during the show's finale based on viewer votes.
Matt Richenthal is the Editor in Chief of TV Fanatic. Follow him on Twitter and on Google+.