A group of TV reporters has been turned loose on the world of Heroes - a sprawling complex of sets at the venerable Gower Studios - and they've all got questions about the show's second season.
The only problem: There are no answers. Throughout a press visit, the cast members of last season's surprise hit were pressed for a little insight into what the future may hold, but they were dancing as fast as they can - trying to be polite but admitting they can say almost nothing.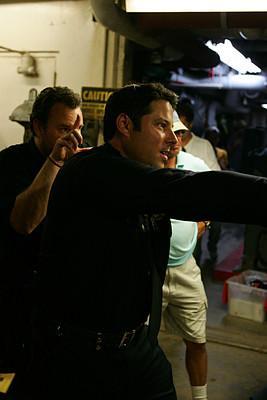 Asked if the show's producers had called a meeting to go over what can and cannot be said, a newly bearded
Adrian Pasdar
- who plays Nathan Petrelli, the flying politician - laughs and says, "Yeah, but it wasn't that long. Basically, it was, `You can't say anything. Have a cup of coffee and keep your mouth shut.' "
This, of course, leads to all manner of speculation, based on the sets and who's present for the press visit.
Reporters walking through the set of a new home for Claire Bennet (Hayden Panettiere), and her family try to figure out where it's located. (Rumor has it: California)
Why is Pasdar - whose character appeared to have been blown up in the finale - among the actors on hand? Why is Milo Ventimiglia - who plays Nathan's brother, Peter - dressed in a slick business suit? What's the deal with the new cast member Dania Ramirez (The Sopranos), who plays a "hero" fleeing the Dominican Republic to the United States?
And where is Leonard Roberts, who played D.L. Hawkins, the man who can walk through walls as the loving husband ofNiki Sanders (Ali Larter)? Since he isn't here, can we assume we've seen the last of D.L.?
"I wouldn't make too many assumptions about anything," says show creator Tim Kring.
About the only thing Kring is willing to say about season two of Heroes is that much of it will be set outside the United States, including story lines taking place in Mexico, Central America, Ukraine and Ireland. (There's a very cool Irish pub set that's been built.)
We've tried to uncover as many Heroes spoilers as possible, of course, but the cast isn't very helpful. Not that we can blame them. In fact, we'll probably thank them when surprises next season catch us off guard.
SOURCE: San Jose Mercury News
Matt Richenthal is the Editor in Chief of TV Fanatic. Follow him on Twitter and on Google+.