The rumors are official true: Heroes baddie Zachary Quinto will portray Spock in the next installment of Star Trek, directed by Lost and Alias creator, J.J. Abrams.

Well, a younger version of Spock.
The older and wiser incarnation will be played by none other than Leonard Nimoy, who was on hand when the good news was announced during Paramount Pictures' panel at Comic-Con in San Diego.
"People have been asking me why I'm doing this movie, and I think the answer is obvious: we have a great director, a wonderful script, and a wonderful young actor playing Spock, so…it was logical," said the 76-year-old Nimoy, to everybody's proudly dorky delight.
Quinto will star as Spock in his pre-Wrath of Khan days. Nimoy, meanwhile, will have a meaty cameo.
When asked how much of his take on the half-Vulcan Enterprise veteran will be inspired by Nimoy, Quinto said:
"Well, as much as he'd like it to be, since he's working on the film, which is an honor." But, "I certainly intend to bring my own spin to it, and working with these guys, I'm sure I'll find it."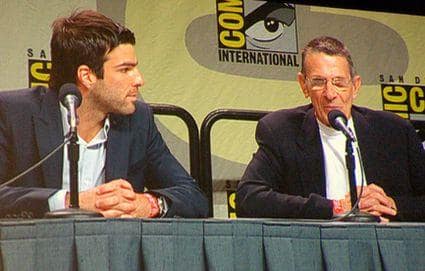 Matt Richenthal is the Editor in Chief of TV Fanatic. Follow him on Twitter and on Google+.