Yesterday, we reported on Hayden Panettiere kindly leading reporters around the set of Heroes.
Today, it's time for Masi Oka to lead us around. As relayed by The Chicago Tribune, the Heroes star took members of the Television Critics Association on a field trip of the set Tuesday. Here's what went down:
The bus load of writers was divided into two smaller groups, and we had as our guide a charming young man who cheerfully ushered us through various sets and kept us moving and laughing with various jokes and friendly directives.
Our guide? Masi Oka, who plays Hiro Nakamura on the NBC show.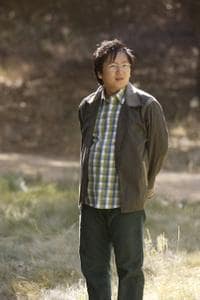 He didn't shuffle along aimlessly, clickety-clacking on his Blackberry or Sidekick and mumbling distractedly when forced to interact with members of the press. In other words, he didn't act like a bored, over-it star of a hit show.
Frankly, he couldn't have been more fun.
One minute he was imitating a chipper "We're walking! We're walking!" tour guide, the next minute he was doling out hints about the upcoming season of the show. At one point he even had a few reporters in stitches with his imitations of both Larry King and "Star Trek's" George Takei, who plays Hiro's father on the show.
"'Masi, if I ever get sick, you could do the interviews for me,'" Oka said, imitating Takei's booming baritone.
"I dare not copy his Sulu stuff [from Star Trek]. Not in front of him," Oka said with a laugh, before rendering a pitch-perfect. "Aye aye, Captain."
The funniest thing about the whole experience was that Oka was a very efficient tour guide. When he told our group to stand behind a yellow line and "allow the other tour group to exit," we all did as we were told unquestioningly.But can you blame the reporters? Everyone has seen what Hiro can do with a sword.
Heroes is currently rolling out worldwide – and soon NBC will be shutting down production on the show down for a week so the cast can travel abroad and do foreign press. The end result is, for about a year now, Oka, like the rest of the cast, has been answering the same questions over and over again, which must be oodles of fun.
"The biggest [question] I know everyone in the cast is sick of is, 'If you had a super power what would it be?' Especially now, with the show launching in foreign territories, we're part of that launch, so we're being asked that again and again," Oka said.
"The funny thing was, on Larry King Live, when the cast did it, we were like, 'Oh cool, he didn't ask that question.' Then it was [imitating King's deep voice], 'OK, for the final question, this is the question that everybody in the world wants to know – if you had a super power what would it be?'"
With another question – "Why do you feel like the show was a hit?" – Oka pretended to press a button on his shirt.
"There are some questions where you feel like, 'Oh, cool, Answer No. 8: "The reason the show connected is because it's a message of hope."' You do get rote at times, especially now with the new launches. But the fact that people are still interested in the show and want to know, that's always a great thing."
Jack Coleman, the actor who plays Claire Bennet's dad, said he has a standard answer for people who ask the "What super power would you have?" question.
"My pat, stock answer is that I always thought it would be great to be invisible, but then I was invisible for most of the '90s, and it wasn't so great," said Coleman.
Here's one last piece of Heroes news fans will be psyched to hear: Takei will be back for season two as Hiro's mysterious papa."We will definitely see him," Oka said.
Matt Richenthal is the Editor in Chief of TV Fanatic. Follow him on Twitter and on Google+.