No Heroes spoilers or Heroes news is as exciting to fans as the fact that Kristen Bell will be joining our favorite show for at least 13 episodes.
Entertainment Weekly recently spoke with the actress about the new gig, among other things...
ENTERTAINMENT WEEKLY: What's life been like since Mars?
KRISTEN BELL: Right after Veronica Mars wrapped [in April], I left for Hawaii [to film Forgetting Sarah Marshall]. I was on cloud nine, obviously, because I was getting to work with Judd Apatow's group. I'd really wanted to be a part of that very small pool of lucky actors.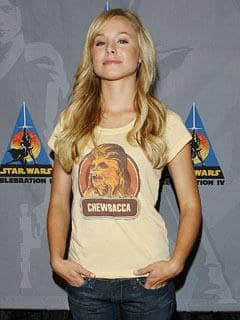 EW
: What's the film about?
KB
: It is about a guy whose girlfriend breaks up with him, and they'd [had] this trip planned for Hawaii and neither of them thinks the other is going to take advantage of it. So they [end] up in Hawaii; she's with her new boyfriend, and chaos ensues.
EW: Sounds like it was a change from The CW.
KB: I was knee-deep in improv. Being able to come up with my own stuff and [being asked], ''What would you like your character to do here?'' It was a lovely experience.
EW: So tell us about Fanboys.
KB: These Star Wars nerds drive cross-country to break into George Lucas' ranch and steal a print of [The Phantom Menace] so that their friend with a terminal illness can see it before it comes out.
EW: You sort of have fanboys of your own. Are you happy about that?
KB: I'm really flattered. I love nerds. Comic-Con junkies are the tastemakers of tomorrow. Isn't that funny? The tables have turned. They're a fiercely intelligent audience, which makes filmmakers want to please them. But I'm looking for the fangirl to come out of her shell a little, to be more accepted.
EW: All right, you've held out long enough: What's up with Heroes?
KB: I'm on a sugar high, to be totally honest. For me, starting a new project is kind of like switching high schools — that feeling of excitement and nerves. And because everyone is so nice and I know so many people involved, I feel like I'm switching high schools — but one that a lot of my friends have already transferred to.
EW: You're kind of the go-to girl these days. You're also narrating The CW's fall drama Gossip Girl. And we hear that Lost was trying to scoop you up?
KB: I'm flattered that I would even be considered for the other roles. [But] I was really excited when there was the prospect of working in town and on one of the best shows on television. There comes a point where I'd like to fall asleep in my own bed.
EW: What can you tell us about your role?
KB: [Elle] comes in with a bang. She's a bit of a criminal in the beginning. I'm not even sure if they know whether she's going to be bad or good. She has a link to H.R.G. (Jack Coleman) and Peter (Milo Ventimiglia). She becomes integral to the mystery on the show.
EW:Did you have to do a table read or go out and audition for the producers?
KB: No, I didn't. Doesn't that feel like I'm on another planet? It's flattering. Everyone has the right to see actors audition [so] they get what's right for their projects. But when you have someone coming to you saying, ''I know you're right,'' it just makes you blush. I'm over the moon.
Matt Richenthal is the Editor in Chief of TV Fanatic. Follow him on Twitter and on Google+.