Brian Gaskill is a forthcoming fellow.
He held nothing back in a recent interview with Soap Opera Digest. Let's check out what the Guiding Light star had to say...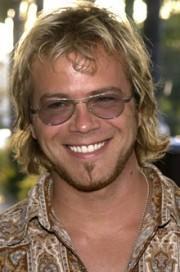 Soap Opera Digest:
You recently became a vegetarian. Care to share why?
Brian Gaskill:
It's a choice both my wife and I made. My father-in-law brought over some freshly cut pork ribs and my wife said, "Nah. No more!" We just imagined the pig being killed that day and she found out a couple months later from the slaughterhouse that they just use sledgehammers to knock them out. The thing is, I was never a big meat-and-potatoes guy anyway.
Digest: Speaking of your wife, she's a rock musician. Does she tour at all?
Gaskill: When [daughter] Alabama was a baby, she would drive and play a lot. We kind of got started off MySpace. That was her version of getting herself out there, which works. Before people start thinking she's Milli Vanilli, she has to get out there and play live [laughs]. She just did a couple of shows with her new music and I was so pumped up about it and I'm so proud of her. She's in the middle of mixing new songs and I can't wait to get them up on MySpace.
Digest: Do you dabble in music?
Gaskill: No. I write lyrics, but that's about as far as I go. I have ideas...Sometimes I think I missed my calling because I love music so much. I wouldn't want to play it, but I like the idea of producing and mixing and playing with the sounds and engineering. It's telling a story. It reminds me of directing or writing. You're telling a story with sound. Anything that goes back to telling a story I somehow relate to.
Digest: Your daughter is about to turn two years old. Is she "terrible" yet?
Gaskill: She said, "Mama" first, but now "Mama" won't come out of her mouth. I think she's messing with us because she calls [Tonya] "Daddy" and she has a smirk on her face [laughs]!
Digest: What attracted you to the role of Dylan?
Gaskill: When I read about Dylan's history, I was more interested in who Dylan was as a teenager and in his early 20s. I would like to bring more of that emotionally to the surface. GL is a more realistic world, I think, for soap operas, as real as it can be.
With Gus [Ricky Paull Goldin] and Natalia [Jessica Leccia], it's all about a kind of young love sprouting up again…It's more tangible in the sense that she's clearly been holding this torch and it's this real first love. Whereas with Harley and Dylan, it's this teenage thing. It's not as quickly tangible for the audience to see if they can build this [relationship], added to the fact that they have a kid and it just sort of happened based on the circumstances. It'll be interesting.
Matt Richenthal is the Editor in Chief of TV Fanatic. Follow him on Twitter and on Google+.