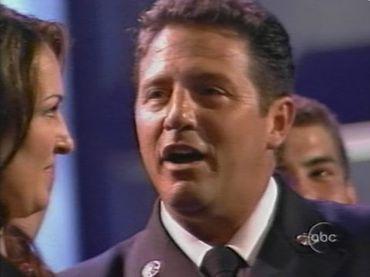 On the season finale of
American Inventor 2
, the three finalists Greg Chavez, Elaine Cato, and Ricky DeRennaux returned.
Chavez invented the Guardian Angel, which is a fire safety system for Christmas trees. Cato invented the 6-in-1 Convertible Brassiere, which is a traditional brassiere that converts into six configurations. DeRennaux invented Custom Build Racers, which is a kit to build remote controlled vehicles.
After a review segment on some other inventors, the three finalists stood on center stage waiting to learn who would be the first finalist eliminated.
Nick Smith announced that DeRennaux was history. When asked what he would remember most, he said:
"The inventors, great people, and these guys [acknowledging the judges] who pushed me just a little bit further than I wanted to be pushed. It's been a ride."
Benjamin Dermer, the Director of Inventor Relations from Spinmaster, invited Ricky DeRennaux to their headquarters to talk about putting HT Racers into toy stores.
Rejected American Inventor contestant Silvio DiSalvatore and the Black Cougar returned to energize the crowd. Before Smith announced which of the two remaining finalists had won, he introduced them to two special guests. Tom Russo, President & CEO of First Alert, told Chavez that they would like to work with him to make Guardian Angel a household product. Norah Alberto, Senior Style Director at Maidenform, told Cato that they would like to fly her and her family out to their headquarters to explore the possibility of bringing her backless bra to market.
After video messages from the families of the two finalists, Smith revealed that the winner of American Inventor 2007 was Chavez.
"It's amazing. It's amazing. A year ago I was sitting in the chair at the house and I was watching the show and I said to my wife I'm going to win next year," he said. She said 'I know you are.'"
Matt Richenthal is the Editor in Chief of TV Fanatic. Follow him on Twitter and on Google+.