No one can argue with the success of Heroes after just one season.
But further proof of this program's popularity lies in how many new shows on the fall schedule appear to be influenced by the NBC hit.
Other network look to have studied the Heroes model. Characters with extraordinary powers can be found in:
ABC's Pushing Daisies
CW's Reaper
CBS' Moonlight
NBC will also schedule two such series with Heroes on Mondays: Chuck and Journeyman.
"We've got to be a little careful that just because a Heroes works in Season 1 that 10 shows like that can work," says Steve McPherson, president of ABC Entertainment.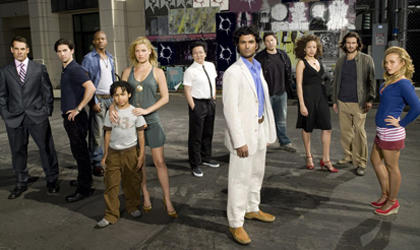 Still, it makes sense that others would hope to piggyback on the wild success of this show. But are there limits to how far NBC Universal can extend the Heroes brand. What about a theme park ride, for instance?
"No one has talked to me yet," creator Tim Kring says.
The man behind Claire Bennet, Sylar and company also dismisses the notion of a movie version of his program. And that's probably a good thing for now.
Let's at least give season two of Heroes a chance to captivate us first.
Matt Richenthal is the Editor in Chief of TV Fanatic. Follow him on Twitter and on Google+.