We have some news on the role Nichelle Nichols will be playing on the second season of Heroes:
The former Star Trek actress will show up in the fourth episode. She' be portraying Nana, a New Orleans doyenne whose daughter died during Hurricane Katrina.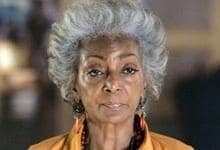 "Nana is tough and undaunted and - like the blues - she just keeps rising to the occasion," Nichols said.
The character is in dire financial straits and has moved back into her once-flooded home, where she cares for her two grandchildren. One of them is new hero Monica (Dana Davis). This new star is an avenging angel intent on bringing justice to the corruption-plagued Big Easy.
Nana is also a great-aunt to Micah, the junior hero played by series regular Noah Gray-Cabey.
"Micah is sent to New Orleans to live with the family," Nichols said. "It's a quite marvelous, magical story, with wonderful things emerging."
Does Nana have a superpower?
"Well, that remains to be seen, now doesn't it?" teased Nichols.
Matt Richenthal is the Editor in Chief of TV Fanatic. Follow him on Twitter and on Google+.