We know Masi Oka and Hayden Panettiere possess unique powers on Heroes, but now we might know what contributes to these special skills: milk.
Each actor is a new spokesperson for the Body By Milk campaign, which was created to encourage teens to eat properly and drink three glasses of lowfat or fat free milk everyday to stay lean and healthy.
In Oka's ad, he says: "My hero? Think hard. It's milk. Some studies suggest teens who choose it instead of sugary drinks tend to be leaner, plus the protein helps build muscle. So grab a glass. Then you can change the future, too."
Panettiere, meanwhile, credits protein for her strong bones and recommends it for all Heroes fans:
"You don't have to be a hero to feel invincible. That's why I drink milk. The protein helps build muscle and some studies suggest teens who choose it tend to be leaner. Cheers to that."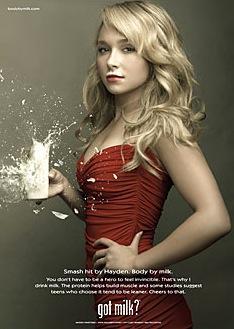 Matt Richenthal is the Editor in Chief of TV Fanatic. Follow him on Twitter and on Google+.