As the daughter of former rapper - and current reverend - Joseph Simmons, Vanessa Simmons is familiar with fame.
But her new role as Lola on Guiding Light is the model's first foray into the daytime world. She recently talked to Soap Opera Digest about the experience so far...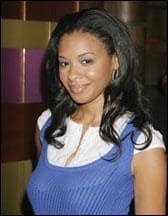 Soap Opera Digest
: Is this role a result of your meeting with
Guiding Light
Casting Director Rob Decina back in December?

Vanessa Simmons
: The opportunity just sort of came along. They asked if I wanted to audition for the show, so I went in and I did the screen test and they called me like two months later ... and asked me if I could come and do stuff for the summer. It's been a really, really great experience. I never imagined working on a soap opera would be so much fun.
Digest: A person in your position has tons of opportunities, especially in fashion and music. Why acting?
Simmons: Acting makes me feel free. I can't explain the feeling I get, like the adrenaline rush when I'm actually doing it and then when it's all over I feel just like yelling! It's so much fun! It's always been like that for me. When I get scripts and go to auditions and being on the Guiding Light set is just this dream come true and so amazing. I can't explain it.
Digest: Tell us about Lola.
Simmons: She's a little bit different [laughs]. She's been a lot of fun to play, though. I don't think she's quite sure of herself or who she really is. She's trying to be this bad girl. And I'm like, "Geesh. This is so opposite of me! How do I really get into this?" But it's been fun. I get very anxious when they tell me they're going to send my script. I'm like, "Oh, God, what's she going to do next?"
Digest: This is your first acting experience. What was it like walking on to the Guiding Light set for the first time?
Simmons: I've been preparing for this, I feel like, all my life. Now to just finally have it there in front of me is just so exciting. I thought I was going to be nervous. When I woke up, of course, the first morning to do it — I woke up at 4:30 [a.m.], couldn't sleep, kept reading over my lines. And then I got there and my co-stars made me really comfort
Matt Richenthal is the Editor in Chief of TV Fanatic. Follow him on Twitter and on Google+.