Alison Sweeney has been appearing on Days of Our Lives since she was 16.
16!
Those years have formulated countless memories inside the actress. She shared her five favorite days with Soap Opera Digest: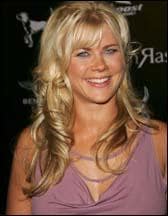 1992: VETERAN'S DAY
"My first day on-set! Working with Wayne Northrop (ex-Roman), Deidre Hall (Marlena) and
Drake Hogestyn
(John) was such an incredible introduction to life in Salem. I was so lucky to have my first storyline be with them, because I got to learn from the best.
I learned so much from the three of them about what we do at Days of Our Lives how to act, hit your marks, say your lines, know your light, and learn all the technical things you need to know to be on a soap opera. I still think back now about all the lessons I learned from them the first months working on the show."
1993, 1994: LOVE THAT LUCAS
"Any scene with Bryan Dattilo (Lucas) over the years. Where do I start? From the photo lab scene to hiding in the cave from a tiger and to our real-life 13-year friendship, bonding as parents and as Clipper fans. We share courtside season tickets."
2005: FRANKIE FOREVER
"Meeting Billy Warlock for the first time and having him come back on the show as Frankie. I always loved Frankie and Jennifer. I wasn't here when Billy was on Days of Our Lives before, but I was always such a fan. It was wonderful to find out he is just as charming in person as he is in character."
2005: WHAT A TRIP!
Going to the Rolling Stones concert with Bryan, Christie (Clark, ex-Carrie) and Austin (Peck, ex-Austin). It was such a fun trip. We all took a bus together, the whole crew, to the Anaheim Angels' stadium. It was so much fun. It felt like a school trip, because we all got in this bus and went together. Then, the concert was so fantastic. I'd never seen the Rolling Stones perform live. They were amazing to see and we had these killer seats. It was a great experience. The music was great and it was a really fun show."
2006: ABS FAB
"Only because it's still fresh in my mind, my first scene with James Scott (EJ). James opened the door in a towel. Then, Austin Peck (Austin) entered into the scene, and he was also shirtless. I looked at both men and realized how incredibly lucky I am to have such a fabulous job."
Matt Richenthal is the Editor in Chief of TV Fanatic. Follow him on Twitter and on Google+.