Forget Guiding Light or anything involving soap operas.
Bradley Cole has far more important topics on the mind: reality TV competitions.
The actor discussed the two most famous one with Soap Opera Digest a few months ago: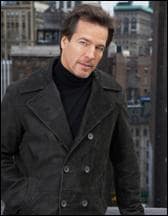 Soap Opera Weekly
: I'm surprised to learn that you're an
American Idol
viewer. What did you think were some of the highlights from the celebrity performers this season?
Bradley Cole
: Smokey Robinson was fantastic, the best thing on the whole show [that night] — Gladys Knight, also. Those two were fabulous.
Weekly: Are you a fan of Blake Lewis and his beat-boxing?
Cole: It was all right. It's like, "Okay, do something else."
Weekly: Were you rooting for anyone in particular?
Cole: The whole season was really bad; a bad crop. Bad is relative — they are all worthy singers — but it was nothing like the other years. This was the first season I watched almost every episode. At first I thought there weren't going to be any boys [advancing]. The boys were terrible this year! That Melinda was by far the best singer, but she's a professional back-up singer.
Weekly: There's no rule that contestants can't be professional singers; they just can't have a record deals.
Cole: It's like Dancing with the Stars. Joey [Fatone] is a professional dancer. He's was in that boy band ('NSYNC). All they did was dance all day! They certainly didn't sing in the band.
Weekly: But he didn't win.
Cole: That show is very hard to watch in the beginning. You have to sit through all of that horrible stuff. This year, I couldn't believe what those people were doing with just a one-week rehearsal. I tried dancing before. I took dancing lessons. It's hard. You would've have to dedicate at least eight hours a day. We need more soap representatives, though. The winner of one season was a soap star (General Hospital's Kelly Monaco, Sam).
A few weeks after this interview was conducted, of course, it was announced that Cameron Mathison of All My Children would be Dancing with the Stars in the fall.
It's safe to assume he has Cole's vote.
Matt Richenthal is the Editor in Chief of TV Fanatic. Follow him on Twitter and on Google+.