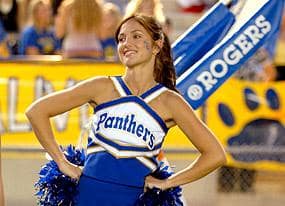 NBC is determined in the weeks leading up to the beginning of the fall season to get people to watch both its new and returning shows.
Chuck, Life, Journeyman, and Bionic Woman are currently available online, at Blockbuster and On Demand.
NBC is also going a step further by utilizing its sister networks to air repeats of all four shows, as well as some second year series whose ratings have yet to meet the network's expectations.
This new campaign from NBC, which focuses on Friday Night Lights, among other series, will see weekly encore presentations throughout the season and a couple of mini-marathons to kick the fall season off.
Ever since NBC and Universal merged to form NBC/Universal, NBC has made full use of its available sister channels Bravo, Sci-Fi, and USA.
Starting September 8, the Sci-Fi Channel will air encore broadcasts of Bionic Woman every Friday at 7 pm ET. The show airs Wednesdays at 9 pm.
The USA Network will air encores of Life Sundays, at 12am ET, beginning October 8. Life airs on NBC Wednesday at 10 pm.
Additionally, on the weekend of October 6-7, USA and Bravo will air blocks of NBC shows. On October 6 the USA Network, starting at 1 pm, will air the second season premiere of Friday Night Lights, the Chuck pilot, the first two episodes of Life, and the pilots for Journeyman and Bionic Woman.
The next day, starting at noon, Bravo will air the first two episodes of Chuck, then the pilots for Journeyman, Life and Bionic Woman.
Bravo will host two separate mini-marathons in the coming weeks, one for 30 Rock and one for Friday Night Lights. On September 30, starting at 3 pm, the cable channel will air six episodes of 30 Rock in a row.
Then, on October 5 at 8 am, Bravo will air 11 straight episodes of Friday Night Lights, leading up to the premiere of Season Two that night.
The point is, if you're a fan of NBC shows and happen to miss an episode, worry not. Peep Bravo, USA and Sci-Fi and you'll find the show you missed before long. Give it up for monopolistic media conglomerates!
Matt Richenthal is the Editor in Chief of TV Fanatic. Follow him on Twitter and on Google+.