In anticipation of Season Two of Friday Night Lights, we're taking a close look at each of its cast members, most of whom you probably don't know too much about. Well, all that's about to change!
On Friday, we profiled Zach Gilford, who plays the Dillon Panthers' QB-1 and reluctant leader, Matt Saracen. Today, we'll talk a little about the terrific actor who plays Matt's best friend Landry Clarke - Jesse Plemons.
Jesse Plemons was born April 2, 1988 in Dallas, Texas. A native of the Lone Star State, it's perhaps fitting that he play a character named Landry - likely a homage to the legendary Dallas Cowboys head coach, Tom Landry.
He's been a busy actor all his life, with feature-film credits including "Like Mike" with Bow Wow and Jonathan Lipnicki, "Children on their Birthdays," adapted from the short story by Truman Capote; as well as "When Zachary Beaver Came to Town," "The Failures," "All the Pretty Horses," and "Varsity Blues."
Jesse Plemons also appeared in "Children on their Birthdays," which marked the directorial debut of the Tony Award-winning and Academy Award-nominated screenwriter Mark Medoff ("Children of a Lesser God").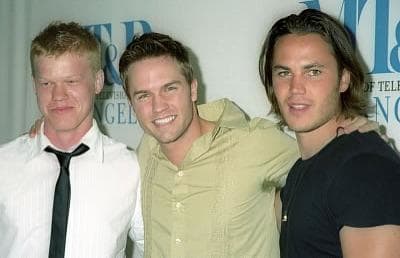 Jesse Plemons (left) with co-stars Scott Porter and Taylor Kitsch.
In television, Jesse Plemons earned much critical praise portraying a young teen struggling to accept his facial disfigurement on "Grey's Anatomy" - during the same second season that featured an Emmy nominated guest starring role by Friday Night Lights' leading man, Kyle Chandler.
Additional TV credits for Plemons include guest starring roles on "Huff," "CSI," "The Lyons Den," "Judging Amy" and "The Guardian."
While his obvious talent has taken him to the heights of Hollywood at the young age of 19, Jesse Plemons' feet are firmly planted on the grounds of his Mart, Texas, home that he shares with his family.
When he is not busy filming Friday Night Lights, he enjoys playing sports and returning to his Lone Star State roots to rope and ride. Texas forever!
Matt Richenthal is the Editor in Chief of TV Fanatic. Follow him on Twitter and on Google+.