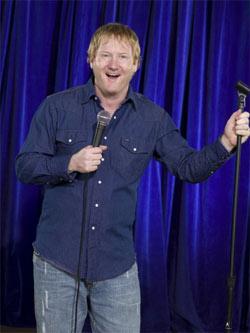 Congratulations are in order for Jon Reep.
The comedian withstood the challenge from other finalists and was named winner of Last Comic Standing this season. Below, he speaks to BuddyTV about the experience...
Well, it seemed like it was gonna be a really close race between you and Lavell. Were you worried?
I was worried. I was definitely worried. I think Lavell's one of the funniest guys I know, and I've gotten to know him over the past couple of months, you know, hanging out with him and stuff. It couldn't have been a closer race with anybody because, he's great.
Yeah, I mean, I seriously had no thought one way or the other what was going to happen because Lavell's got a good following out there and people like Lavell. You know, he's a funny dude. You just, you never know.
Have you tried out for the show before, or was this your first year?
It was my first year. I've been watching it, and I was always kind of hesitant about doing the show, and I didn't like it at first because, you know, they made it more of a reality show and I wanted it to be more about the stand-up comedy part of it. I never really liked comedy as a competition because I was actually on Star Search with Arsenio Hall and I had a horrible experience on that show. And I told myself, "Never again will I do this."
But I fortunately had good people on my side who said, "No, you should do it because you can't really beat the exposure." They're trying to get more established comics into the competition this year. And they took out the fact that we have to live together in a house, on a boat.  So, I thought, "You know what? Maybe it is a good time to audition for it." So I bit the bullet and did it, and I'm glad I did.
Well, what comics this season really ended up impressing you?
My goodness. Well, Lavell, Gerry Dee, Doug Benson, Amy Schumer. Those are my favorites.
Click here to read the full interview.
Matt Richenthal is the Editor in Chief of TV Fanatic. Follow him on Twitter and on Google+.