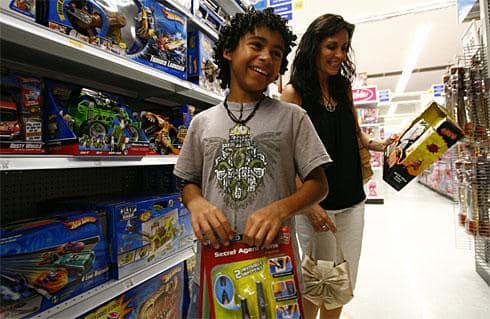 Masi Oka
may win an Emmy Award Sunday.
His co-star, meanwhile, is just focused on what cool toys to bring to the ceremony.
USA Today reports that Noah-Gray Cabey is wearing a tuxedo for the occasional... as well as a spy watch and secret-agent mission gloves that could be accessorized by James Bond.
Red-carpet preparation for the actor involved two-stop shopping: first, a fitting at Tuxedo Station; then a search for spy gear at a nearby Toys R Us, as shown here.
At the tux shop, the Heroes star is more MacGyver than Astaire, showing how a walking stick could be used to devastating effect on the red carpet.
"I'd be like poking people. Or it would be like up my sleeve and whoosh," he said, shooting the cane out from his sleeve.
Noah's novel footwear idea might be fashion fast-forward: Wear Heelys, shoes with wheels, to the event. He won't need those, however, to make an impression with an ensemble that features a pinstriped tux, silver vest, striped tie and two-toned shoes.
"He cleans up very nice, huh?" said his mother, Whitney Gray, admiring his transformation from T-shirt and jeans to formalwear.
At Toys R Us, Noah and his mother looks for spy gadgets, which they have made part of their regimen for award shows from the Golden Globes to the People's Choice.
Noah combs an aisle of spy paraphernalia, assessing each item with his mother, who now seems more co-conspirator than Emmy date. He offers one wrist device, but she's not sure: "I don't know if that will match my dress."
A secret voice recorder is a must-have, as is a spy watch. The one problem: Whitney's Emmy-night purse won't hold everything Noah wants to bring. When shopping, "we always take the handbag to see how much we can fit in," she says.
Here, Noah favors substance over style: "Can we bring a bigger one?"
Matt Richenthal is the Editor in Chief of TV Fanatic. Follow him on Twitter and on Google+.