For those that don't wish to read any Heroes spoilers about future episodes, turn away right now.
For everyone else, here's the official NBC summary of Monday's new episode, "Kindred," along with a couple photos from it:
Upon his return to New York, Suresh (Sendhil Ramamurthy) is unnerved to find an undiscovered Issac Mendez painting that foretells death of someone close to him. Both Claire (Hayden Panettiere) and H.R.G. (Jack Coleman) pursue their own secret personal agendas.
Determined to make it to the U.S., Maya (Dania Ramirez) uses her deadly abilities to free Alejandro (Shalim Ortiz) from a Mexican jail. Ando (James Kyson Lee) returns to his job in Japan and makes a happy discovery.
Meanwhile, in Japan's past, just when Hiro (Masi Oka) had written off Kensei (David Anders), his childhood hero surprises him. Niki (Ali Larter) and a lost Hero individually strike shady bargains to reach their goals.
Two familiar people with abilities make an unexpected return.
Anyone who has seen the commercial for this episode knows that one of the people coming back is Sylar (Zachary Quinto).
Here are two images from the third episode of season two: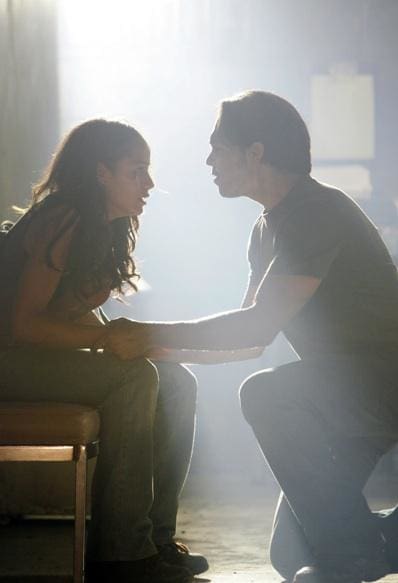 Matt Richenthal is the Editor in Chief of TV Fanatic. Follow him on Twitter and on Google+.