While some feel the second season of Heroes is off to a slow start, Entertainment Weekly has the answer: More Jack Coleman!
The magazine sat down with the man who portrays Mr. Bennet before the season premiere a few weeks ago. Here are a few highlights from the interview: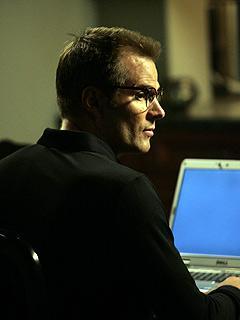 Did you ever think HRG would connect with the audience the way he has, and in turn, become the defining role of your career?
Well...no. The character was never originally part of the plans. [But] as the season went along, I just started getting better and better stuff... I really think the character of HRG — he really is a story engine. I can connect people. I can know their past when they don't, I can let the audience in on things that the characters can't know. I can be hunting someone, or I can be trying to liberate someone. There's just so many ways to go with it.
It's weird to think, in light of where we are today in the Heroes saga, that your character wasn't conceived to go any further than a few episodes.
It's really weird. My suspicion is that it wasn't ''This man is brilliant! Give him lots of stuff to do!'' I think they just saw how well the character could work as a story device. The moment that Tim [Kring, creator] decided that this man in the horned-rimmed glasses was Claire's adopted father, that was the moment in my mind that the character as he came to be known was created. Because it's just too rich not to mine it.
You have great chemistry with Hayden Panettiere — was it easy for you to develop a rapport with her?
The scene that we did in the pilot where I come home and she comes running into my arms, we'd known each other for about 45 seconds when we shot that. I was the guest star. I come out of my trailer, we're about to shoot, she comes out with ''Daddy!'' I thought, ''Wow, this is a very open actor.''
I was really kind of blown away. Hayden has chemistry with everybody. She does. She's just invested in whoever she is looking at and acting with, and I think that's something that's really special about her. She's very savvy about the camera, but she's not giving it to the camera, she's giving it to the actor. We had a scene right before ''Company Man'' where, in the hospital, where she finally blows up and yells at me. We had to do a lot of coverage of her, and she's crying through the whole thing, for several hours, and it's exhausting.
And we did all her coverage, and then the camera came around and shot me, and all the tears came, and she's off-camera. She really invests. It's funny, all of this talk in the media about her being another ''teenage starlet,'' wondering if she'll go the way of other young actresses — people need to pay attention to her work.
Her work is really good. It'd be nice if people talked about that sometime instead of just where she's going, or who she's dating, and whether or not she's going to run off the rails. And by the way? I don't see that happening.
How do you feel about the work of this actor? Let us know in our
Matt Richenthal is the Editor in Chief of TV Fanatic. Follow him on Twitter and on Google+.