Lyla Garrity vs. Claire Bennet: TV's Cutest Two Cheerleaders Square Off in a Tale of the Tape!
Matt Richenthal at .
Lyla Garrity is the top cheerleader on TV in the opinion of many, but she does have some competition. The All-American girl played by Minka Kelly on Friday Night Lights is rivaled in part by another "super" youngster.
Can Lyla compete with Claire Bennet (Hayden Panettiere) of Heroes? We decided to take a look at how they'd match up in a 10-round bout. Ding, ding!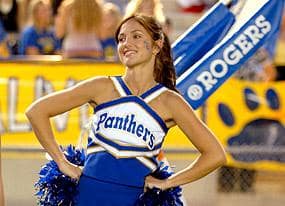 1. HIGH SCHOOL HONORS
Lyla Garrity: Team Captain
Claire Bennet: Homecoming Queen
Edge: Even
2. POTENTIAL FOR INJURY
Lyla Garrity: Below average.
Claire Bennet: Zero.
Edge: Claire
3. FATHER'S OBSESSION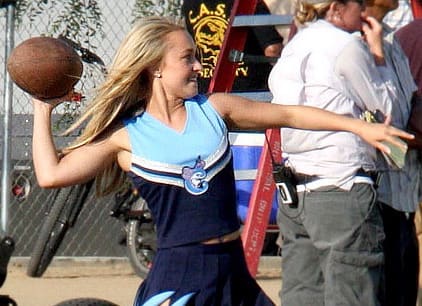 Lyla Garrity: Panther pride
Claire Bennet: The demise of his former employers
Edge: Lyla
4. CHEERS FOR ...
Lyla Garrity: Dillon (Texas) High School Panthers
Claire Bennet: Odessa (Texas) High School Wildcats (Season One); Costa Verde (Calif.) High School Edge: Lyla. They won State!
5. PARALYZED BOYFRIENDS CHEATED ON
Lyla Garrity: Jason Street
Claire Bennet: None
Edge: Claire
6. IS THE TARGET OF ...
Lyla Garrity: Malicious websites detailing her sexual escapades
Claire Bennet: Agents from the evil Company that wish her harm
Edge: Even
7. BEST FEATURE
Lyla Garrity: Amazing body, gorgeous brown hair
Claire Bennet: Pinky toe that grows back when cut off
Edge: Lyla
8. UNUSUAL VICE
Lyla Garrity: Watching instructional quadriplegic porn
Claire Bennet: Jumping off buildings, setting self on fire
Edge: Lyla
9. NEWLY COMMITTED TO ...
Lyla Garrity: Christianity
Claire Bennet: Chandra Suresh
Edge: Lyla
10. THEY SAID IT
Lyla Garrity: "You're changing Jason, and it's so real... we're never going to last, because I'm not changing with you."
Claire Bennet: "That's easy for you to say. You're not wading into the shark-infested waters of 11th grade."
Edge: Claire
THE VERDICT: Lyla Garrity takes home the title in a 6-4 squeaker! Score one for Friday Night Lights! Don't count out the Heroes starlet yet, though. She has a tendency to bounce back from setbacks rather quickly.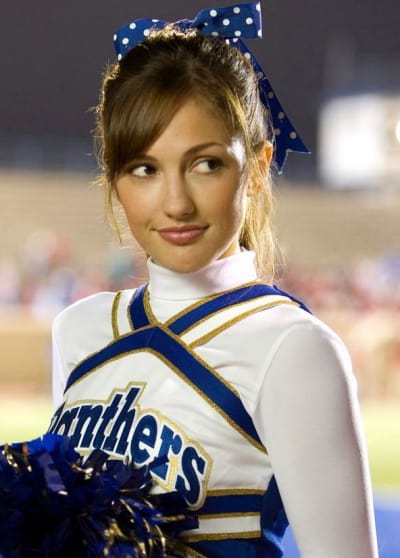 Matt Richenthal is the Editor in Chief of TV Fanatic. Follow him on Twitter and on Google+.