As Cameron Mathison prepares to go Dancing with the Stars again tonight, one of his co-stars talked to Soap Opera Digest about Mathison's opening performance and more.
Here's what All My Children star Thorsten Kaye had to say: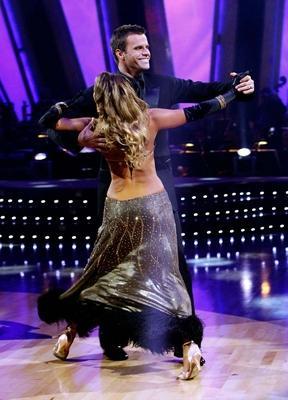 What did you think of Cameron last night?
Thorsten Kaye
: I think the guy was outstanding. With my dance background I look for performance on a much higher level. Cameron and I talked on Sunday night. He asked my opinion and I said, "The best way to start this thing is to lower the bar for yourself where people don't expect a lot from you. When you start this on Monday, your quest for the cup, you should slip down the stairs when you walk in.
Because then people will not think you've got it in you." He said he was not sure he could do that. I said, "You can. Act it and do it." So he did. People think, "Here's a guy who can't even walk down the stairs," and now he has a chance to surprise them. Dance is all about tight pants and strategy. That's how you win this thing.
How about Cameron's taped package?
Kaye: I liked it. It makes you think about how far he's come when you see that picture of him as a kid in leg braces. I wore an ass brace when I was a kid so I can relate to him.
How about the competition?
Kaye: I wasn't too sure about that model guy with the Barbie bathing suit. What was that? I thought it was a little much. This is ballroom dancing — what kind of ballroom can you wear that stuff in?
Did you give Cameron any advice for next week?
Kaye: Yes. I told him to stay with the black on black because it is slimming. He dances like I do: the music will tell him what dance to do. Wait for it to start and just feel it and go.
Matt Richenthal is the Editor in Chief of TV Fanatic. Follow him on Twitter and on Google+.