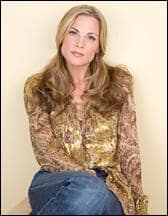 Gina Tognoni is losing her mind.
Well, her character on Guiding Light is losing her mind. And the actress recently sat down with Soap Opera Digest to talk about it...
Soap Opera Digest: What has your experience been playing someone who's losing her mind?
Gina Tognoni: I love it! At the same time, it's really kind of depressing. We won't be telling the story forever, but I'm having a good time doing it because it's different.
Digest: What did you learn about mental health while you were in preparation?
Tognoni: From what I understand, people who have a brain injury like [Dinah's], where the brain suffers a trauma and goes through a period of coma or swelling, can wake up just not functioning the way they used to. It's similar to a stroke. You start to lose some of your faculties, and it's different for each person.
Digest: How do you think Guiding Light is handling the sensitive story?
Tognoni: It's a very realistic story, but we have the challenges of daytime and keeping it exciting and dramatic. They did a very good job. People getting hauled off to the looney bin and [guys] coming in white lab coats — that's soap opera! But I also think we have a lot of truth. That's what I like. We tell good story.
Digest: How has the story changed Dinah?
Tognoni: Once again she's lost her way, and she's trying to use everything she's learned from every experience to pull herself back up. Sometimes it's frustrating as an actress, but [Dinah] is a great character and one of the most interesting I've ever played. She is the definition of an anti-heroine. Not a lot of shows have that.
Digest: What would you like to see happen with Dinah in the future?
Tognoni: If anything, I want her to learn. [We] have to keep her a little edgy so she has that darkness in her, but I want her to overcome something. That's a very important element that I think we'll start seeing in her.
Matt Richenthal is the Editor in Chief of TV Fanatic. Follow him on Twitter and on Google+.