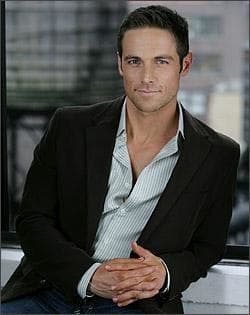 Dylan Bruce, new to As the World Turns, recently sat down with CBS.com. Here are excerpts from that discussion:
CBS.com: What other soaps did you test for?
Dylan Bruce: I screen-tested for One Life to Live, Days of Our Lives and As the World Turns twice. Then, I screen-tested twice for the "My Network TV" telenovela, the late night soaps. I actually booked one but they cancelled it a week before it started shooting.
CBS.com: What is your background?
Bruce: I am from Vancouver, British Colombia originally. I'm a Canadian citizen. Then I moved to Seattle with my mother. I went to the University of Washington. I was studying Economics. I was into Drama in high school but I didn't think it was practical at the time so I started going into Business.
Then I took one Drama class [at the University of Washington] and I fell in love with it. I ended up double majoring in Drama and Economics. I graduated, and then I moved to San Diego and did some Theater down there. Then I moved to Los Angeles because I wanted to make some money. [Laughs] And the rest is happening right now.
CBS.com: Do you still live in L.A. or did you relocate to N.Y. for As the World Turns?
Bruce: I had a place [in L.A.] but I am putting all my eggs in one basket [in New York]. I don't want to think about moving back to L.A.--I want to stay out here and be successful.
CBS.com: Who have you been working with?
Bruce: I've worked a lot with Kathryn Hays who plays Kim and Don Hastings who plays Bob. The majority of my scenes involve Kelley Hensley [Emily] and Grayson McCouch [Dusty]. They've all been very welcoming, unbelievably supportive. I feel so blessed to be working at this place with these people. It's really a dream come true.
Read the full interview here.
Matt Richenthal is the Editor in Chief of TV Fanatic. Follow him on Twitter and on Google+.