On Guiding Light these days, a certain Aussie beauty has Frank concerned about his daughter, Marina.
As relayed to Soap Opera Digest, meanwhile, his portrayer, Frank Dicopoulos, can relate.
"I'm overprotective of my real family," the actor said. "I can't imagine Frank Dicopoulos being in the same position as Frank Cooper. It would be horrible!"
Dicopoulos is the father of daughter Olivia Dicopoulos, who also stars on Guiding Light as Vanessa and Matt's daughter, Maureen.
"I have a wonderful relationship with both of my children," said Frank, "but it's different between the sexes. I love my son, but with my daughter it's a different thing. There's always a special bond between fathers and daughters."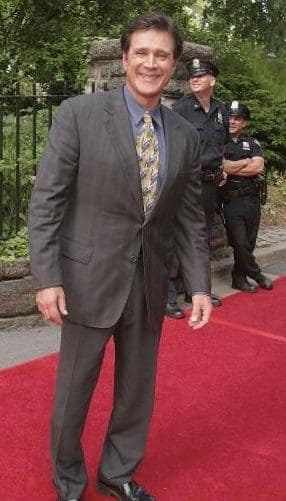 On the show, Dicopoulos says he was "kind of concerned about the Thanksgiving scene" recently because his character comes off as a jerk. But his bond with Marina is in jeopardy due to his refusal to accept her love for international criminal Cyrus.
How would any father react to that?
"It's a tough situation," said Dicopoulos. "I'm sure a lot of people out there are going to be able to relate to it. As a parent, you just want to do the best you can for your children and protect them."
Overall, viewer reaction to the story line appears to be mixed.
"Some fans say, 'back off,' and, 'lay off of her,'" said Dicopoulos. "Then I get people who defend me and say, 'Good for you! If had a dad like Frank, I wouldn't be in my situation.' Then some fans jump on the other fans' opinions. It's crazy!"
Matt Richenthal is the Editor in Chief of TV Fanatic. Follow him on Twitter and on Google+.