The wardrobe trailer for Friday Night Lights — an 18-wheeler with mirrored doors on the back — is more or less a clotheshorse's dream, reports today's Austin American-Statesman: it's a gigantic walk-in closet.
Professional stylists and costumers buzz around the long racks of clothes, sectioned off by character. The trailer is stationed in the Northeast Austin church parking lot that serves as one of the base camps for the NBC show.
One thing, though. These aren't exactly fashion-forward clothes.
The show, set in fictional Dillon, has won acclaim for its small-town authenticity - in everything from the characters' homes and cars to their wardrobe.
"That's one of the most challenging aspects of our job — not to make people look too hip," costume supervisor Jaimey Sloan says. "Sometimes it's hard to find stuff that looks like they bought it in Dillon, Texas. But at the same time, we have actresses from L.A. who know what's in style."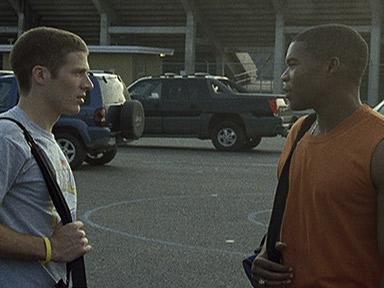 Kathy Kiatta, a friendly but hurried woman in jeans and Western boots, is among those milling about. The costume designer, Kiatta oversees the characters' looks, from the main cast to those who appear just briefly.
"It's much faster than shooting films," says Kiatta.
To help keep it all straight, every outfit for every scene is logged. Each garment also gets a tag that details which scenes and episodes it's been in, to avoid having the characters wear something two days in a row.
As Kiatta and Sloan think about tomorrow and the upcoming episode, supervisor Taylor Rierden has the current episode on her mind. It's her role to make sure the actors are in the right clothes at just the right time.
Costuming can be a challenging job — but can be a fun, too, of course. One of Kiatta's favorite parts is dressing the character of Brian "Smash" Williams, the Dillon Panthers' cocky running back, played by Gaius Charles.
"I have so much fun shopping for this guy," she says, waving a hand over his rack of jewel-toned, fine-spun button-downs.
They decided Smash, a ladies man with a job at the Alamo Freeze, spends his extra money on clothes. "I get a lot of stuff from (Neiman Marcus) Last Call."

Surveying another character's rack, she shakes her head.
"Poor Matt Saracen is not spending his money on clothes."
With sick Grandma to care for and his dad in Iraq, Saracen (Zach Gilford), the Panthers' quarterback, doesn't have the means nor time to look spiffy.
Continue reading in the Austin American-Statesman ...
Matt Richenthal is the Editor in Chief of TV Fanatic. Follow him on Twitter and on Google+.