Here's an inside look at Scott Bryce, star of As the World Turns...
He briefly attended the prestigious Juilliard school.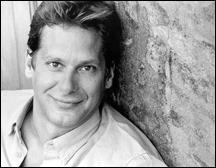 He returned to As the Worls Turns in 1993 after running into late Head Writer Douglas Marland at the Soap Opera Digest Awards.
Five members of Bryce's family have appeared on the soap opera: His father, Ed, played Dr. Deming in the early '70s; his mother, Dorothy, played Blondie in 1986; his brother, Phillip, played Lucinda's pilot in the '80s; and his wife, Jodi, played Vogue editor Darla in 2004.
Bryce is executive producer at Palace Digital Studios in Norwalk, CT, a three-camera television studio housed in a converted vaudeville theater.
Matt Richenthal is the Editor in Chief of TV Fanatic. Follow him on Twitter and on Google+.