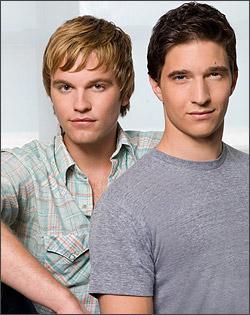 In September,
Jake Silbermann
and Van Hansis sat down with CBS to discuss the biggest story line on daytime television: the kiss between their characters, Noah and Luke.
Below are a few highlights of this interview with the As the World Turns stars:
CBS.com: How has the reaction been to the pairing of Noah and Luke?
Van Hansis: I think it's been incredibly positive as far as I've heard. I don't know if the production office just doesn't give us the negative comments. Everything I've heard has been very positive. We were a top couple in a recent Soap Opera Digest, which was cool.
CBS.com: Do you discuss in advance the scenes you're shooting?
Jake Silbermann: Of course. [With] specific scenes there is an understanding and it's well-written so we understand what's going on.
Van Hansis: The hard part is memorizing our lines!
CBS.com: Jake, how about you...coming in as a new character, did you know this relationship would be the center of the Noah story?
Jake Silbermann: I knew coming in that it was going to go in this direction. And I was thrown for a loop when Noah and Maddie got together. I thought it was great and a very realistic side to the story because Noah is confused.
CBS.com: Now, do you two hang out off the set?
Van Hansis: Yes. We've gone to parties and stuff. It's a very easy friendship there has never been any awkwardness. Jake's a very easy-going guy. We both like comic books.
Jake Silbermann: By the way, I brought you one.
Van Hansis: Jake just gave me a comic book. It's a graphic novel called Watchmen. It's award winning they are making it into a movie.
Matt Richenthal is the Editor in Chief of TV Fanatic. Follow him on Twitter and on Google+.