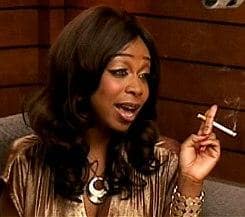 Amid talk that he was a closet homosexual, Pretty quit the competition for Tiffany Pollard's love last night.
Late in the I Love New York episode, Pretty talked on the phone with his sister, who had earlier been grilled by Pollard about her brother's sexuality.
Pretty could immediately tell Lashanda was upset, as she told her brother that New York "pushed the wrong buttons" when her questions got a little too personal.
"I had that New York asked some very personal questions about me," said Pretty. "I mean come on! These are not questions that a normal sibling would know about their brother or sister!... I really don't want my sister to be involved in this at all. Any time you mess with my blood - you mess with me - so I was definitely going to stand up for my sister. I am going to set it straight tonight. It may get a little rowdy."
With that, Pretty became the first-ever suitor to leave Pollard before she could even oust him herself.
Buddha, Punk, Mr. Wise, Tailor Made and The Entertainer all remain in the competition.
Matt Richenthal is the Editor in Chief of TV Fanatic. Follow him on Twitter and on Google+.