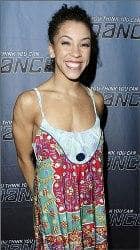 As the winner of
So You Think You Can Dance
, Sabra Johnson might feel entitled to an entourage. Or at least a very big head.
But the talented beauty keeps herself grounded.
"I try not to get worked up about anything.  I shouldn't take it too seriously or too lightly.  It is what my life is right now.  I just remain modest and go with the flow," Johnson recently said.
On tour with other finalists from the show, Sabra almost refutes the claim that she's the best of the bunch, insisting "we were put on the show as equals. Most of us were on the same level. It's not necessarily who's better."
Voters deemed Johnson better, of course. But she still knows that the most difficult path lies ahead of her. She must now fulfill those expectations.
"There's always going to be a lot of people better than me. It's just a title," she said.  "To go back into the world and have people expect stuff - that's going to be hard."
Matt Richenthal is the Editor in Chief of TV Fanatic. Follow him on Twitter and on Google+.