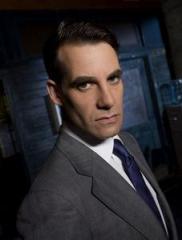 Might this be a
Heroes spoiler
that Nathan lives through his gun shot?
The actor who portrays the former politician recently teased season three to Entertainment Weekly.
"Season 3 is going to be very interesting to see what happens and how they're able to take the lessons that we've learned, and really tell the story that they want to tell without losing an audience," said Adrian Pasdar. "Because the goal at the end of the day is to have as many people watch the show as you can."
Reconciling what writers and fans want has proven to be challenging, Pasdar admits, especially because Heroes is "complex" and has "many layers."
"It's not stupid TV, it's not a reality program," Pasdar said. "It actually is complex. There's many layers to Heroes. [Creator Tim Kring is] not averse to risk-taking, as he has proven in the episodes of season 2."
Let's all just pray the writers' strike is soon resolved and we'll get a chance to see if Pasdar is correct or not.
Matt Richenthal is the Editor in Chief of TV Fanatic. Follow him on Twitter and on Google+.