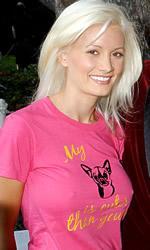 First, we heard from
Bridget Marquardt
regarding this season of The Girls Next Door.
Now, Holly Madison has talked to TV Guide about the upcoming few episodes...
TVGuide.com: I understand there's a big "Alaskan adventure" airing on The Girls Next Door this Sunday.
Holly: Yes, and I'm really excited about it because it airs on my birthday and I get to take Bridget and Kendra back to my hometown in Alaska, which is really, really rural and out in the middle of nowhere. It's definitely a change of pace for them.
TVGuide.com: What else is among your favorite moments of the coming season?
Holly: There's an episode that focuses on my work at Playboy Studio West, which follows four different girls from four different parts of the country [trying] out to be Playmates. I think that shows the real me more than any other episode. It shows me at work and it gets behind the sort of girls who come out here.
TVGuide.com: In Season 1, you said one big objective was to clear up misconceptions about life at the mansion. Do you see signs that you've accomplished that?
Holly: Absolutely. Our show has a really big female following, and we get a lot of feedback from them. They look up to us because we're in a position where we can pretty much pursue anything we want to do, and they love to see empowered women follow their dreams.
TVGuide.com: What might be in your future once Girls Next Door runs its course?
Holly: Well, we're each hoping to develop a spin-off. I'd love to do a spin-off about my work at the Playboy Studio and the girls that come through there. And some day I'd love to be a mom and have it all!
Check out the full interview with Madison now.
Matt Richenthal is the Editor in Chief of TV Fanatic. Follow him on Twitter and on Google+.