Here's a shock: Donald Trump says the celebrity edition of The Apprentice is the best yet, as he had to accept far fewer stars than even applied for his show.
"I think it's important to say for every person we took on, we turned down five. I never knew there were so many celebrities, to be honest with you," Trump told reporters during a recent conference call.
In the end, 14 D-List celebrities were accepted for The Apprentice's seventh season, which is scheduled to premiere Thursday, January 3 on NBC.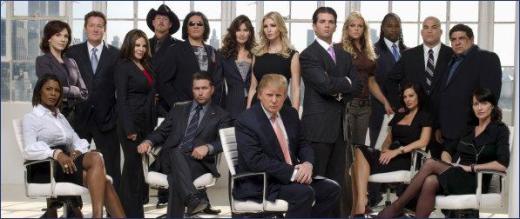 "What really surprised me was the fact that I wasn't exactly sure what I was getting. These are people that are successful celebrities, some unbelievably successful," said Trump. "And we've really had an amazing crop of people. I didn't know whether or not they were going to take it that seriously.
I didn't know whether or not they were going to be as competitive as kids getting out of Harvard and Yale, and Wharton, and all the different schools who, you know, were fighting for their lives. It turned out to be, I think, the best Apprentice we've done and that includes Apprentice Number One which actually became, for many weeks, the number one show on television.
"I really, in some cases in particular, had a hard time firing some of these people because I've known them not necessarily personally, but I've known their achievements," continued Trump.
"It's much more difficult. And that was, to me, the biggest difference between this and firing some young kid from Harvard who did a bad job. That was not hard for me, but firing somebody that I, in many ways, grew up with or watched over the last 25 years or 5 years or 2 years, was much more difficult because they're people of great achievement.
And it's hard for me to fire people of great achievement. But they deserved it and they got fired."
Matt Richenthal is the Editor in Chief of TV Fanatic. Follow him on Twitter and on Google+.