Next Friday, fans will be treated to a special episode of As the World Turns.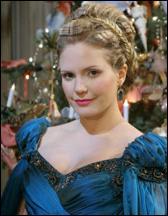 The show will actually take place in Victorian era, with characters sporting corsets, exaggerated skirts supported by crinolines and frock coats to match the artistic setting that takes viewers back in time.
Costume designer Margarita Delgado recently spoke with Soap Opera Digest about the endeavor.
"It was a nice, well-written script that was really descriptive and gave us a real visual sense of what they wanted it to look like," she said. "We had some things here that have been around for a long time. They were probably bought 40 years ago. This show has been around for a long time. The nicer pieces have been saved throughout the years and some pieces are really falling apart. So we just cut off the sleeves from one of those."
As for the actors, Delgado enjoyed styling and dressing them up as "everyone had their own identity and personality." Most of the men wore rentals with a lot of added-on decorations, but the women of As the World Turns had to wear more complicated dresses.
"Emily's dress is a bright red, rented dress. We took a lot of things off of it and then applied a lot of things onto it," Delgado said of the outfit worn by actress Kelley Menighan Hensley.
Delgado also revealed that Katie (Terri Colombino) will be wearing a gown with a lot of beading, while Faith, played by Ashley Marie Greiner, will be in a little dress with a vintage pattern. Sounds like a very, very cool idea to us.
Matt Richenthal is the Editor in Chief of TV Fanatic. Follow him on Twitter and on Google+.