Soap Opera Digest recently tried to interview Michael Park.
But the As the World Turns actor insisted that good friend Ricky Paull Goldin be involved. A fun time for all ensured. Here's a snippet of what went down: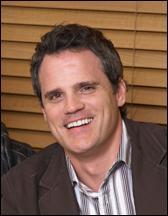 Digest
: Michael, what made you think of inviting Ricky?
Goldin
: Maybe it was because I booked the place first.
Park
: We blame it all on Martha Byrne [Lily,
As the World Turns
], right?
Goldin
: Possible, yes.
Park
: We'd see each other and hang out at the St. Jude's benefit, which is missed.
Goldin
: Yes, yes. I always knew Michael. We kind of knew each other on the peripheral. Years ago, I walked into the benefit and he was holding court. He had a lovely suit on, he was completely covered in wine — somebody had spilled it on him — and he was performing. Remember this?
Park
: Yeah, a fan dumped wine all over me.
Goldin: But he's so good onstage. Very charming. Even though everybody was talking and wasn't listening [everyone laughs]. I'm only kidding — he still kept going, like a trouper. That's what I love about him.
Park: And so that sparked it all.
Goldin: He's Michael, he was on Broadway doing Smokey Joe's Café.
Park: At the same time that you were doing Grease.
Goldin: That's right.
Park: But we work in a medium that is perfect to do a cabaret and raise a little money. My friend Ron had passed away, so I wanted to raise money for his family. It was a perfect idea at the time. But the more we talked about it, the more people Ricky invited to do the cabaret. So everyone from Guiding Light was there, and me.
Goldin: Well, they wanted to get up there.
Park: He invites people with him onstage.
Goldin: That's fun!
Park: You're a little nervous. You like to be with people and ham it up.
Goldin
: Yeah, but when I finally get up there with them, I wish they'd go away [laughs].
Park
: You heard it here first, folks.
Goldin
: I'm just kidding. These are all jokes.
Park
: But why would you want to do another cabaret if you want everyone to go away? Why don't you do your own? I'll direct you!
Goldin: No, no. I don't like the word "cabaret" in the first place.
Park: I don't like that, either. I don't know what it means.
Goldin: To me, it just means, "We're going to rent out a little club and we're going to sing that night. And come on down. The more the merrier. The more people onstage, the better."
Park: We had a fun time. We did a little Rat Pack thing and I clearly played the part of Dino that night because I was lit by the time we left.
Goldin: But that made it fun. We were having a good time.
Park: It's not a serious event, but it's entertaining.
Goldin: I don't think we're going to go the Rat Pack route this time. We're gonna go more like the Guns N' Roses way. I made that up just now. Is that okay?
Park: This is what happens, normally: He doesn't consult.
Matt Richenthal is the Editor in Chief of TV Fanatic. Follow him on Twitter and on Google+.