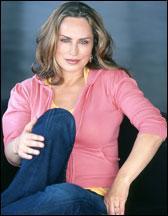 TV Guide Canada
has a message for Angelina Jolie: watch your back! Guiding Light's Crystal Chappell proves you don't have to be rail-thin to be hot!
The magazine recently talked with the Guiding Light star:
TVGuide.ca: It must be lonely being so sexy, gorgeous, and talented, huh? Let's talk about your beauty for a moment: you prove you don't have to be rail-thin to be sexy and I've always admired that.
Crystal Chappell: Wow — thank you every much! That's nice to hear! [laughs] Yes, I prefer to be healthy and don't want to starve myself. I did starve myself in my 20s — and it became unhealthy. And I succeeded; I was 112 pounds and very miserable! I think curves are beautiful.
TVG: As a mother, do you worry about this unrealistic and dangerous image Hollywood is promoting?
Chappell: Yes, it worries me. As a mom, you worry about these girls who are obsessed with being thin and unhealthy. We certainly need to clear this up in this business before it gets out of hand and people start dying. Call me crazy but I enjoy seeing women with wrinkles and fuller figures; I think it's beautiful.
Read the full interview with Chappell now.
Matt Richenthal is the Editor in Chief of TV Fanatic. Follow him on Twitter and on Google+.