InTurn - the reality show in which actors compete for a 13-week gig on As the World Turns - is coming back for a third season.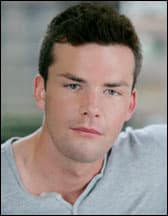 Here's the advice that InTurn 2 winner Ryan Serhant, currently appearing as Evan Walsh IV, has for the next nine, courtesy of
Soap Opera Digest
:
Soap Opera Digest: What do you think should happen in InTurn 3?
Ryan Serhant: Personally, I think InTurn kind of does it the wrong way. I'd like to see it be a contest for a specific character. I think it would be a lot more interesting for viewers, since they're always bringing on new characters, like Sofie, Cole, Chris, Casey ... I'm not singling anyone else, I'm just saying that if within the next year they knew they were bringing on a new character or some sort of recast, that InTurn could be a competition for that.
InTurn has nine completely different actors. To single anyone else is pretty biased. It makes me kind of uncomfortable. To say that I was the best is complete bull.
Digest: Do you keep in touch with anyone?
Serhant: Lauretta Vaughn, definitely, because she's there all the time. The others, not so much, because no one else lives in the city.
Matt Richenthal is the Editor in Chief of TV Fanatic. Follow him on Twitter and on Google+.