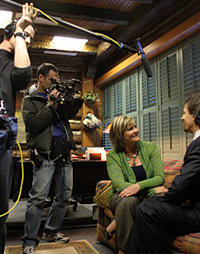 Today was the first day of the rest of Guiding Light's life. Or something to that effect.
The long-running soap opera introduced a new set and new overall production format. Here's a review of the changes, courtesy of iF Magazine:
Trying to be hipper, faster and more current in its strorytelling devices, CBS is shaking up a format that has been etched in stone for decades and while it may bring in younger viewers, it's going to be shock treatment for older watchers who will be thinking their favorite soap has been hijacked by cable access filmmaking punks featuring shaky camera work, bad lighting and audio that sounds as it came directly from the microphone on the video camera.
That said, there's some good and very bad examples of what is working as they try to accomplish something groundbreaking with its new milieu.
Read the full review now.
Matt Richenthal is the Editor in Chief of TV Fanatic. Follow him on Twitter and on Google+.