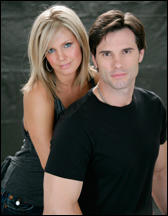 Terri Colombino and Austin Peck are the hottest non-couple on daytime TV.
The As the World Turns co-stars recently spoke with Soap Opera Digest about their relationship, characters and other topics:
Digest: Was there chemistry right away?
Peck: I thought so. I tried to give her permission to be the way she needed to be with me as the character and really hit my feet off the table or really come at me. I don't even know if I said anything, but even after we started working, any time it was in the script for her to be physical with me, I said, "Push me! Really go for it! Just do it!" It was giving her permission to be how she needs to be as Katie to Brad and that just gives me what I need.
Colombino: He still does that.
Peck: But as far as the screen test was concerned, I saw the character and I felt like I saw what they wanted and I saw the traps that most actors or that I myself might have made. I knew that I was going to go for the fun. Katie is trying to grow up and take her life seriously. Here comes this guy who doesn't take much of anything serious, but he is inside. And I thought that was the fun thing about him that he was challenging her.
Read the full interview now.
Matt Richenthal is the Editor in Chief of TV Fanatic. Follow him on Twitter and on Google+.