Wallace Kurth has made his way from Days of Our Lives to General Hospital to As the World Turns, premiering on the latter in November 2007 as the character of Sam.
Below, CBS speaks with this veteran of the daytime business:
CBS.com: How has it been being back in daytime?
Wally Kurth: I've really enjoyed it. The travel was a little brutal, because I live in Los Angeles, and I commuted back and forth to [Brooklyn, NY]. I learned my way around the Long Beach Airport and racked up some frequent flier points.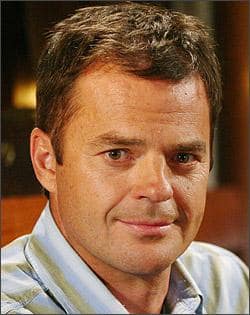 CBS.com: What drew you back to daytime?
Wally Kurth: I was contacted by CBS and As the World Turns and they asked me if I'd be interested in playing this role of a ventriloquist. They told me a little bit about the role and what I'd be doing and I thought I've got some time on my hands, let's do this. Playing a ventriloquist and working with a dummy felt like a good challenge. I like trying things that I've never done before.
Also, I had auditioned about a year ago for the show and didn't get the role but as a result started watching the show. So I was excited to come and work with the cast.
Read the full interview with Kurth now.
Matt Richenthal is the Editor in Chief of TV Fanatic. Follow him on Twitter and on Google+.